Welcome to my Home Page
Hallo there,
Hi, I am Johan YB4GA.  I have been involved with ham radio since 1969,  first a SWL when I was a 14 yeras old boy
Registered to HamSphere on 28th Oct 2012 and actively on 4th April 2013.  
As a 5 days trial user, I've got a Bronz Award. and I do hope to get another in the near future.
The DXHC Silver Award came on 25th April 2013
73 de Johan YB4GA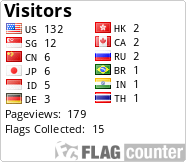 3 Responses to Welcome to my Home Page